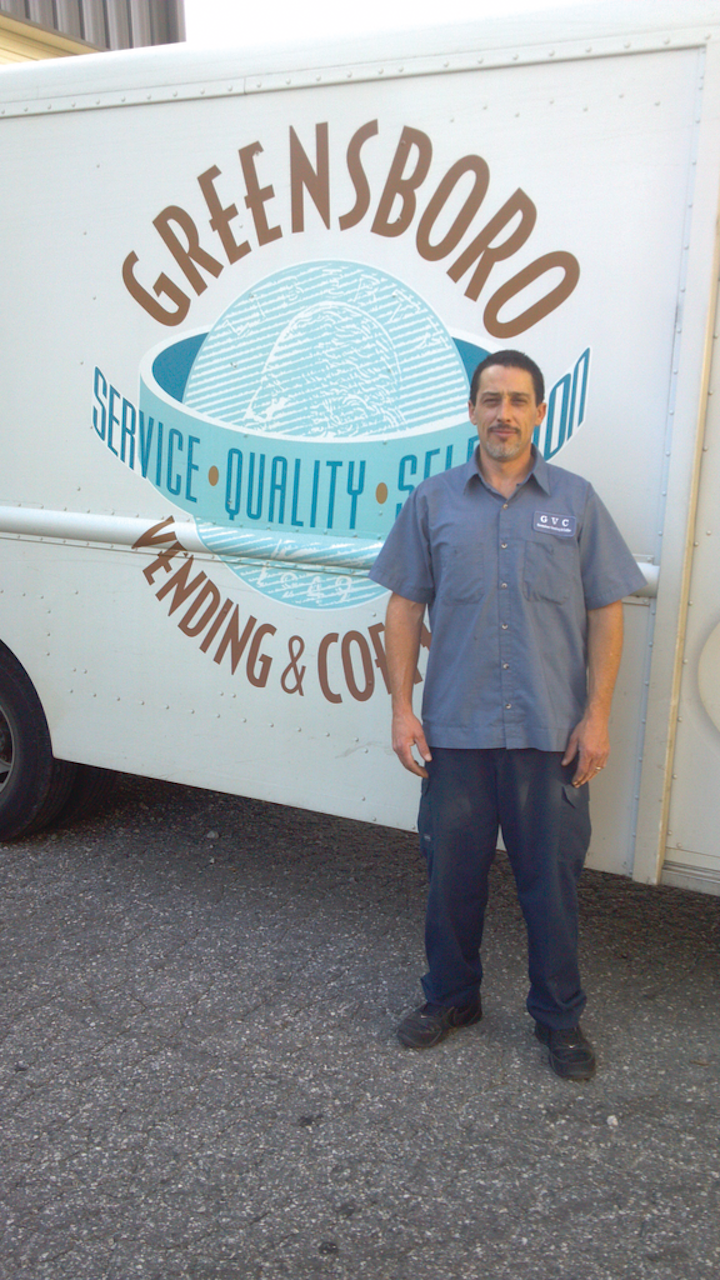 Vending operators with routes that average over $10,000 per week want to ensure that they have a route driver who is timely, professional and downright impressive. For Brian Beeson at Greensboro Vending & Coffee, Mike Edwards is that type of employee.
Edwards began working for Greensboro Coffee & Vending over thirteen years ago and puts as much care into his $100-per-week accounts as he does to his $10,000-per-week accounts. Beeson, Greensboro Vending & Coffee's general manager, felt so strongly of Edwards' dedication to his clients and his route that he has nominated Edwards multiple times for this award. "I have been in this business for 22 years and have never had a route driver that does what he does," said Beeson.
Cleanliness is key
Edwards takes pride in the fact that his machines are always at a high level of cleanliness – a level that other route drivers should envy. "His machines are filled properly and are the cleanest I have ever seen," explained Beeson. "We actually pulled a coffee vending machine straight from one of his locations because we were upgrading the machine and we turned right around and installed it in an account without having to bring it back to the warehouse to have it cleaned. If you know anything about our business, you will understand what a job it takes to keep a coffee vending machine that clean and this is done at everyone of his accounts."
Keeping customers smiling
Customer service comes naturally to Edwards. When customers make suggestions as to what products they want in the machines, Edwards listens. For Edwards, the customer is number one; he goes above and beyond to put the products consumers want into the machines he services. "At least twice a month a representative from one of his accounts will just pick up the phone and tell us what a wonderful job he does and what an asset he is to our company," said Beeson. The effort that Edwards put into his routes extends outside of his work as well. Edwards works six days a week and still finds time to participate in his young son's sports. Outside of his work and family, Edwards is also an avid disc golfer, being ranked by the Professional Disc Golf Association.
Chosen out of many
Over one hundred drivers were nominated in 2013 and each driver was given a numerical score based on number of years as a driver, miles traveled, accidents and citations, customer satisfaction, truck conditions and sales. Edwards will be awarded $250 for winning the 2013 fourth quarter Route Driver of the Year award sponsored by Mondelez International and Automatic Merchandiser. He will also be a finalist for the final Route Driver of the Year award that is presented at the NAMA OneShow in April 2014.
"If anyone deserves this, he does," said Beeson upon hearing Edwards became the 2013 Fourth Quarter Route Driver of the Year winner. "I am telling you, this guy is amazing."