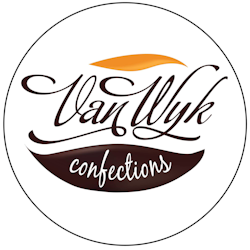 Van Wyk Confections
PO Box 370
Castle Rock, CO 80104
United States
Van Wyk Confections is a family owned business located in Castle Rock, CO. With twenty years of experience in the candy industry we are proud of the consistent quality and service we offer each and every day. In the past few years, we have helped non-profit groups raise over ten million dollars for their cause.
Van Wyk Confections offers consumers new, creative and fun products. All of our candy is guaranteed to be produced and delivered to you in excellent condition. Our chocolate is fresh, creamy and pleasing to the most discriminating palate. Our pops are made from the boldest exciting flavors. Lastly, don't miss our all natural mixes; they are delicious and shelf stable allowing you to bake at your convenience. You won't be disappointed. If for some reason you are not satisfied with one of our products, please contact us.
Request More Information
Fill out the form below to request more information about Van Wyk Confections.
---