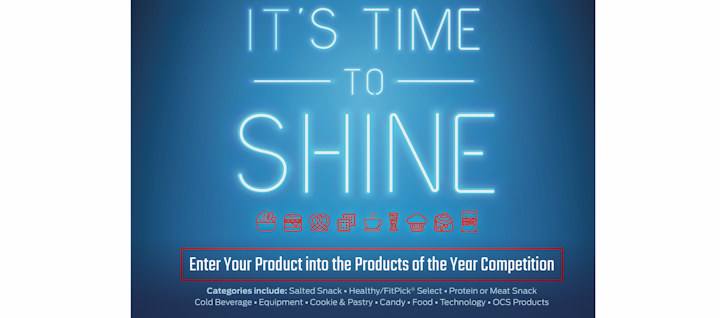 Each year, Automatic Merchandiser and VendingMarketWatch.com invite suppliers and manufacturers that launched a new product in vending, micro market or office coffee service in 2019 to submit their nominations for the 2020 Readers' Choice New Products Of The Year Awards.
These awards go to the products that our readers determine are their favorite, most requested or bestselling products in the convenience service industry in 2019.
We will accept product entries for the 2020 awards until Jan. 16, 2020. Suppliers and manufacturers who would like to enter a product launched in 2019 may submit a product photo accompanied by the launch month/year and a 100-word description to editor@VendingMarketWatch.com no later than Jan. 16, 2020. If you have any questions, please call Abby White, editor, at 615-358-7132. 
The categories for 2020 are Salted Snack, Healthy/FitPick® Select. Protein or Meat Snack, Cold Beverage. Equipment, Cookie & Pastry, Candy, Food, Technology and OCS Products.
Readers, look for voting details that Automatic Merchandiser and VendingMarketWatch.com will announce in January 2020 via email, print and social media. The voting deadline will be Feb. 5, 2020.
Last year's winners, honored in Readers' Choice Awards 2019, were as follows:
Salted Snack: Van Wyk Confections' Sweet & Salty Pretzel
Protein or Meat Snack: Tyson Foods' Hillshire® Snacking Small Plates
Healthy/FitPick®: Naked Fruit, Nut & Veggie Bars
Cold Beverage: Push Beverages' Push Strawberry Soda
Cookie & Pastry: Little Debbie® Vending's Little Debbie® Double Decker Fudge Round
Candy: NibMor's Organic Dark Chocolate Snacking Bags
Food: Campbell's Well Yes! Sipping Soups
Technology: Gimme Vending's Gimme Markets mobile app
Equipment: Three Square Market's "The 46" Large Touchscreen Micro Market Kiosk
OCS Products: Vendors Exchange's Café CURVE