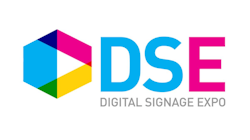 Digital Signage Expo
Digital and interactive display solutions' concepts, design, content, analytics and more are the focus of the Digital Signage Expo. The event will be held March 31 to April 3, 2020, at the Las Vegas Convention Center in Las Vegas, Nev. It will feature 75 education sessions, workshops and panel discussions, and draw 200+ suppliers and service providers, according to the event website.
The exhibit hall will be open April 1-2.
Registration Customer Service: US 844-256-7469 | International 240-439-2944 |